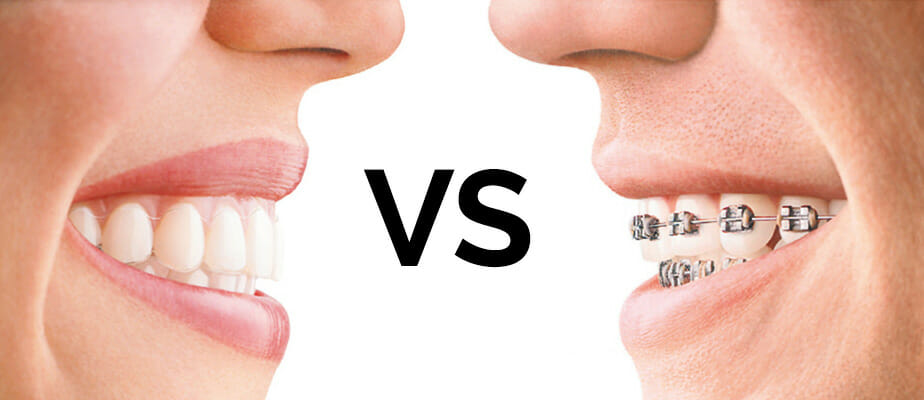 Smiles are first impressions.
Our smiles are an important way that we communicate to the world around us.  Kindness, confidence, beauty, health, and encouragement are non-verbal ways we share with others using our smiles.
The option between choose traditional braces and Invisalign can be confusing.  How does one decide what is best for them?  It truly depends on the patients lifestyle.
Differences
Braces are brackets and wires that are fixed to your teeth 24/7 and move or straighten teeth.  Invisalign is a process where removable aligners are used and changed as the teeth move.
Invisalign uses a scanner and computer to create a customized series of trays specific to each patient.  One of the benefits is that these trays are removable, allowing patients to sometimes remove them for photos, special events, speaking opportunities, etc.
Aesthetics
Traditional braces use wire and metal.  There are other aesthetic options for braces, such as clear tooth-colored braces that don't show as much metal when a patient smiles or speaks.  If someone is not interested in brackets, then Invisalign is the best option.  Invisalign trays are clear and blend in with teeth very well.
Eating and Drinking
With braces, eating foods such as chips nuts, gum and sticky candies can be challenging and often is avoided.  These can disrupt and loosen the brackets and wires, causing extra trips to the dental office for adjustments.  Apples and some meats will need to be cut up.
Since Invisalign trays are removable, you can remove before eating and drinking.  As we all know that brushing and flossing is important, regardless of which type of orthodontics you choose.
Both can be done with either kind of orthodontics.
Convenience
With most orthodontic care, occasionally a bracket may come loose or a wire my move and irritate the inside of your cheek. There are ways to fix these issues before and after a trip back into the office.  Fixari Family Dental is available with extended hours to assist you when this happens.  Please don't hesitate to contact us for any orthodontic emergency.  Availability is an important part of your decision in selecting an orthodontist.
Selecting Invisalign will cut back on orthodontic emergencies.  It is a good choice for working adults, college students who are out of town, or simply those on the go.  Invisalign offers flexibility.
Complexity of Orthodontic Problem
There are cases when Invisalign is not recommended.  Growing children are often given orthopedic devices prior and during orthodontic treatment.  Children are not always best at keeping track of trays and specific instructions using aligners.  For children and adult cases involving surgery, traditional braces may be the best option.
Conclusion
If you are considering braces or Invisalign in the Columbus Ohio area, please call Fixari Family Dental for a complimentary evaluation with our orthodontist, Dr. Gu. Fixari Family Dental has two locations in Columbus and Canal Winchester with convenient evening hours as well as Saturday hours to fit the needs of everyone. We will decide together what type of orthodontics works best for your life.